A guard dog can provide companionship and protection for your home and family members. Dogs are extremely intelligent creatures, and some breeds also have characteristics that make them highly suitable for family protection.
Here are our top choices for the best family guard dog breeds.
#4: Rottweiler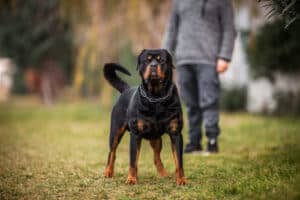 The AKC ranks Rottweilers as one of the top best family guard dogs for its large, muscular frame, poised and peaceful personality, and its playfulness. Affectionately referred to as "Rotties" by their owners, these dogs mistakenly think they are lap dogs, and won't think twice to jump up on a lap to get some much-needed snuggling.
Rotties are best introduced to the family as puppies, and proper guard dog training will help to socialize them and teach commands. The AKC describes these dogs as brave without being overly assertive.
It is for these reasons that the Rottweiler is one of the best choices for family protection dogs.
#3: Doberman Pinscher
Like the German Shepherd, the Doberman Pinscher has been used for years to perform police and military work. Care.com recommends that this breed be introduced to the family (especially those with small children) as a pup, and then trained properly to guard. These dogs are loving, gentle, and obedient to their families.
The Doberman is lean, athletic, and has an intimidating appearance, all of which can help ward off intruders. What makes the Doberman an especially good protection dog is its apprehension to strangers and its fearlessness in confronting danger. With training from a professional, this breed is one of the best family protection dogs.
When searching for home security dogs for sale, this breed should be seriously considered.
#2: Belgian Malinois
The Malinois is a breed in the "herding" category of dogs, which means that it is ready to work alongside its owner. These dogs require one-on-one attention and lots of physical activity to avoid boredom, so an active family that enjoys the outdoors is the ideal choice for this breed. Its fiercely loyal demeanor and playfulness make the Malinois an excellent choice as a est guard dog for families.
These dogs have a similar appearance to the German Shepherd in their coloring, yet are slightly smaller in stature. Malinois are eager to please, courageous, and quick to learn, so they are one of the top choices as a family protection dog. When looking for a fully trained Belgian Malinois for sale, the AKC recommends adopting one that has been properly socialized to live with smaller children to help it adjust to the gentleness needed in a family setting.
#1: German Shepherd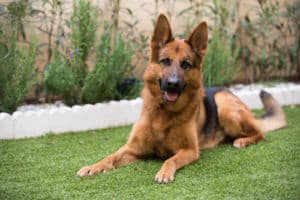 This breed can be found on every "top" list as a family pet as well as a protection dog. German Shepherds are large in stature, have big teeth, and are excellent at deciphering threats to their territory in a split second.
The American Kennel Club calls this breed "a true dog lover's dog" because they are excellent with children, are eager to please their master, and thrive on following orders.
German Shepherds have a thick undercoat, which makes them ideal for outdoor protection of the home. They are also loving companions that long to play and be affectionate with family members.
One of the most desirable traits of this breed is that they are fearless when needing to protect their family or their home. Loud barks warn strangers to think twice about entering this breed's protected territory. Properly trained German Shepherd protection dogs will attack anyone who dares to breach its zone of protection, making this breed one of our top picks as a family guard dog.
Buy a Trained Family Protection Dog from Scott's K9
Steve Scott is a police and military veteran who has been providing trained protection dogs to families and government institutions for almost two decades. Contact Scott's K9 today to ask about the pre-trained guard dogs we have available for sale.
References:
https://www.care.com/c/stories/6047/7-of-the-best-guard-dogs-for-families/