At Scott's K9, we pride ourselves in knowing quite a bit about K9 dogs. After all, we work with them on a daily basis to ensure they are trained to be the best protection dogs in the business.
Even though we know a lot about them, there's always more to learn. Here are some facts that we thought would be nice for our readers to know.
The following are 10 interesting facts about police dogs.
#1: New York City Debut
NYPD debuted police dogs in 1907. The K9 dog unit was called "Patrol Squad 1."
#2: War Dogs
German Shepherds were used in World War I, World War II, the Korean War, and the Vietnam War. They are strong, intelligent, and hard workers, which makes them phenomenal for protection and military service.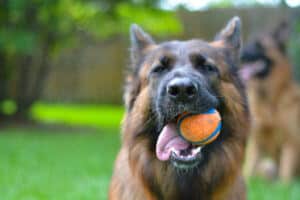 #3: Early Retirement
Police dogs only work for 6-8 years. The rest of their life is spent at home with their owner. Sometimes, the owner is the handler who worked with them. Other times, people who know how to care for these trained breeds adopt them.
#4: A K9's Sense of Smell
You know that K9s have a good sense of smell, but did you know that their sense of smell is 10,000 times stronger than ours? It's true!
#5: Some Police Dogs Start Life in a Shelter
Not all police dogs are brought into the K9 way of life as puppies. Some start at an animal shelter with unknown pasts. However, at Scott's K9, we personally import our pups and adult dogs from Europe to ensure the purest bloodlines.
#6: Differentiate Between Identical Twins
Identical twins (humans) are no match for K9s. They can tell the difference between them without difficulty.
#7: Fast Searchers
Trained guard dogs, especially German Shepherds and Belgian Malinois, can search areas much faster than any human could dream of. This makes search and rescue efforts far more effective than with humans alone.
#8: Pets
K9s can be family protection dogs, but they need to be with owners who understand how to utilize them in a way in which they can use their natural instincts. Trained law enforcement dogs want to work, and they feel good when they do their work well.
#9: Sniffing It Out
K9s can sniff out a car in about three minutes. When we say sniff, we mean finding whatever they have been trained to alert their handler to (drugs, etc.).
#10: Thanks, Germany!
The first K9 came from Germany. We owe it to Germany for opening us up to the potential of their amazing dogs.
Scott's K9 – Your #1 Resource for Trained Guard Dogs
We hope you enjoyed reading these facts about K9s. Please contact us if you would like to learn more about them, our K9 dogs for sale, or how we skillfully match our fully trained German Shepherds and Belgian Malinois to their ideal owners.