At Scott's K9, we generally work with two breeds of dogs – the German Shepherd and Belgian Malinois. Many of the people who come to us know all about the German Shepherd, but not as many know about the Belgian Malinois. For that reason, we wanted to provide you with some more information on this amazing breed.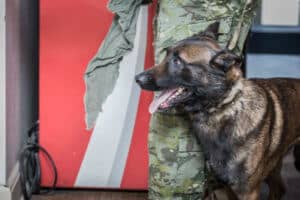 Belgian Malinois: A K9 Superstar
The Malinois is a squarely built breed that stands 22 to 26 inches tall. He is strong and built of muscle. He is not bulky; rather he is elegant and sleek. This breed is built for working hard on their feet.
Colors can range from deep mahogany to a rich fawn. The eyes are dark brown; often compared to the color of Belgian chocolate.
The Belgian Malinois is easily trained by professional trainers. They are so eager to please that they absorb commands and positive reinforcements immediately. Belgian Malinois can be trained in as little as 10 weeks or sooner depending on the work he will be doing. Since they are a sensitive breed, they respond best to calm, pleasant, but consistent and firm commands.
The Malinois does best when worked hard on a daily basis. This includes physical and mental exercises. It's what makes this breed such an excellent law enforcement K9, military dog, or family protection pet.
Working side-by-side with his owner is where the Malinois wants to be each day. This breed is highly emotional and understands the world of work and how to be an affectionate companion.
The Malinois can decipher when there is a threat and responds with appropriate aggression (as trained to do so properly). It is part of his instinct and the Malinois does not hesitate to bite in certain trained situations.
Understanding this part of the Malinois is important when training a Malinois to be a family pet. Scott's K9 personally brings all of our trainee dogs home with us so they can be around small children and other dogs. This helps to socialize them to be the ideal guard dog and family companion.
Due to the active nature of the fun-loving Malinois, he's perfect for owners who love to spend time outdoors. Running and long hikes are some of this breed's most loved activities. Just be ready because he can outrun most anyone! The good news is that his passion for protecting his owners will keep him from getting too far ahead.
Our Belgian Malinois for sale is guaranteed to be free of genetic defects that could negatively affect their health. Most are imported from Europe to ensure the genetic bloodline is healthy and pure. This allows us to provide dogs that have incredible temperaments, excellent health, and a tremendous work ethic in how they serve their owners.
Find Trained Belgian Malinois for Sale at Scott's K9
We know the Malinois breed inside and out. For more information about how the Malinois can help you with law enforcement, military service, or family protection guarding, contact us today.
We would be happy to tell you more about this hardy, wonderful breed!