Getting a trained guard dog for personal protection or for police or military work is a serious decision. These dogs are hard-working, life-saving companions. Before buying a trained Belgian Malinois or German Shepherd guard dog, here's what you should look for in a legitimate trainer.
Real-World Experience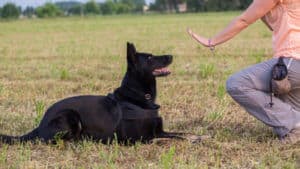 Book smarts are not the same as street smarts. You want a trainer who has "been in the trenches," so to speak. Hours of experience training and working with dogs in a variety of scenarios are what will yield you the best results. Look for a trainer that has trained police K9 dogs, military dogs, personal protection dogs, and family guard dogs. Many times, trainers have not done all of these.
This wide range of training skills will allow your trainer to meet your unique needs. Every client is different, so being able to match you up with your ideal dog is crucial.
Since this kind of discernment is only possible with years of experience, a trainer with thousands of hours under his or her belt is your best option.
Knowledge of Excellent Blood Lines
It takes wisdom and knowledge to accurately decide whether a puppy has what it takes to serve as a K9 or as a personal protection dog. This doesn't just come from surface observations of the dog's temperament. It also matters that the trainer knows where the dog comes from.
European kennels produce some of the best dogs in the world when it comes to German Shepherd and Belgian Malinois puppies. Discussing genetic lineage with a kennel or breeder can tell an experienced trainer how good the pups are likely to be for protection-related services.
Family Integration
Whether your protection dog is coming home with you each night after a long day as a police K9 or being a full-time family protection dog, integration training is key. Personal protection dogs are adopted into families and organizations with all the protection training you need them to have.
A legitimate trainer will also be able to help integrate your new dog into the home environment by:
Teaching socialization skills to the dog during its training time.
Instructing owners (all family members) on how to best utilize their dog's training to accommodate any setting.
Choose Steve Scott & Scott's K9
It is extremely rare to find a trainer who has not only served in the military and on the police force (as lead K9 trainer) but has also trained thousands of dogs. Steve Scott has over 15 years of experience in the U.S. and in Europe sourcing the best trainers, kennels, and trained guard dogs.
With so many years of experience, you can trust Scott's K9 to meet your organization's and family's needs. Contact us today to learn more about the police, military, and personal protection dogs we have available.