Being your own boss comes with the freedom to set your own hours, pursue your passion, and gain financial independence. If you're contemplating starting a K9 security business, here are some things to consider.
Guard Dog Training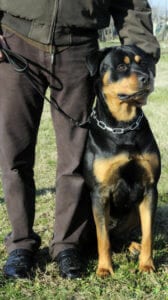 A guard dog needs special training to be competent in providing professional security services. Some settings may require the dog to be tolerant of sudden, loud noises. Other situations may call for the ability to stay focused in high-distraction environments.
Yet:
Others may require flawless discernment regarding threatening versus non-threatening situations.
If you're planning to offer guard dog services (for private or public use), the dog will need to be properly trained. The highest level available (and the most respected in the world) is the Royal Dutch Police Dog Association (KNPV). This organization holds the top spot for guard dog training.
Generally, when trained protection dogs have graduated from KNPV training and are certified as "PH1", they are ready to serve as police dogs. This skill level is the highest possible level a trained guard dog can achieve. Dogs with PH1 training usually serve as protection for organizations such as the police, military, FBI, and Border Patrol.
They also make excellent protection dogs for business owners that provide dog security services in the private and public sectors.
Handler Training
Handlers can serve multiple purposes for security dog company owners. First, guard dog trainers can provide ongoing training to the dogs that will serve on the fleet. Second, they can be hired out as handlers to serve alongside the security dogs. It is highly advisable that handlers are certified to KNPV standards.
It is also important to employ handlers who have 5+ years of experience providing K9 security services in a variety of settings. This will help the handler to be more versatile for you, the business owner.
Start-Up Costs and Hourly Rates
As a business owner, you will have to put in some capital to get your private K9 security company started. One way to save money is to become a trained handler and provide the in-person security services yourself. Once you establish a reputation and begin picking up more clientele, you can invest your profits back into your business and hire additional handlers and purchase trained guard dogs.
KNPV trained guard dogs imported from Holland or Germany can cost several thousand dollars each. However, the many years of service that the dog can provide (and the lives it will protect) are well worth the investment.
According to Entrepreneur magazine's website, a guard dog can bring in up to $60 per 8-hour shift; dogs with handlers are hiring out for as much as $175 per shift.
Choose Scott's K9 Guard Dog Business
Personal protection dog sales and training are all we do. We have over 15 years of experience providing elite personal protection dogs, executive protection dogs, family protection dogs, and military/police dogs.
Our dogs are imported from Holland and Germany to ensure the purest bloodlines. Adult dogs we import are already KNPV trained and certified. For imported puppies, we have a staff of skilled KNPV trainers on-site to provide the highest standard of training possible before the dogs are adopted.
Contact Scott's for guard dogs and trained police K9 dogs for sale that can help you start your own security dog company.