The German Shepherd guard dog has a long history of being a loyal, hardworking, and lovable dog. The name of this breed comes from where it originated and its first job. Before the Phylax Society was formed in 1891, early day breeders were seeking to mate dogs that would have strong, intelligent, and capable offspring. Not long after, in 1899, German farmers started using the German Shepherd to herd and protect their flock of sheep.
After the downfall of the Phylax Society, breeders continued to breed a variety of dogs to produce those that were stronger, more intelligent, and highly trainable. Max von Stephanitz attended a dog show in 1899, and that was where he met a German Shepherd named Hektor Linksrhein.
Hektor was the offspring of a few generations, and he fit the criteria that Max was striving for in ability, intelligence, and beauty. Max purchased Hektor, changed his name to Horand von Grafrath, and started the Society for German Shepherd Dogs.
Horand was bred with dogs that had similarly desirable traits so that the breed would grow. We now have over 10 million German Shepherds in the world today.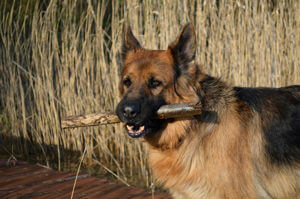 German Shepherd: The Bravest Soldier
Max's goal was not only to identify and perpetuate the hardest working dog breed, but he also wanted to introduce German Shepherds to military and law enforcement. With their instinctual tendencies to guard and protect, he knew this breed would be ideal as trained guard dogs.
After loaning his dogs to German police departments as the first K9 unit dogs, he quickly found that his assumptions were correct; this breed fulfilled the police's needs. This confirmation opened the doors to adding K9s to German military units for service during World War 1.
The German Shepherd K9's main jobs included duty as:
Messengers
Ammunition Carriers
Sentries
As they performed their duties, they also helped on the battlefield by leading injured and blinded soldiers off the battlefield so they could receive medical attention.
The brave German Shepherd was immediately given great recognition due to its courage in stressful and dangerous situations. As a result, both the Americans and the English wanted to know more about this fantastic breed.
By the time World War II started, Germany wasn't the only country using the German Shepherd; the United States started using them as well. This led to the establishment of many K-9 training camps throughout the U.S. for not only war dogs, but also for law enforcement.
Guarding and Protecting Americans
From herding sheep to assisting soldiers, the German Shepherd has a long and successful history of protecting. They guard and protect the U.S. from drugs, criminals, terrorists, and a variety of other security concerns. Because of the German Shepherd's treasured qualities and work ethic, we all can rest a little easier knowing they are hard at work making sure we're safe.
Purchasing K9 Dogs for Sale at Scott's K9
The military, law enforcement, government organization, and families seek out Scott's police K9 because we are committed to providing the highest quality trained German Shepherd dogs. Our guard dogs have impeccable bloodlines to ensure the good health and natural abilities that this breed is known for.
If you're looking for a top-trained guard dog and best friend, Scott's K9 has the very best German Shepherd guard dogs for sale. Contact us today!