One of the most frequently asked questions we receive is if the trained Belgian Malinois is a good family dog. This is a two-part answer….yes, and it depends.
The Malinois is not your typical family dog. It's true the breed is intelligent, beautiful, and loving. These attributes make them great family dogs. What people also need to know is that they are extremely hard working.
The Malinois thrives on stimulation. This stimulation is ideally achieved through both physical and mental activity. This breed wants to learn and is always eager to please their owners. Don't be surprised when your Malinois wakes up in the morning ready for a full day of activity.
Grab our Guide on Choosing the Best Protection Dog for You and Your Family
Download
This temperament may not fit into every family's lifestyle, especially if everyone is gone for most of the day and evening, leaving their furry friends at home alone. While this may be perfectly fine for some other breeds, the Belgian Malinois wants more from their day.
The best type of owner or family for this breed is one that is ready to play and work with their furry friend. For example, a morning run with some tricks along the way would be a great way to start the day. After a break, the Malinois will likely be ready to tackle the next order of business. This could mean a ride in the car to his owner's workplace or a trip to a field or dog park for more active work/playtime.
By the late afternoon, this pooch will be ready for some affectionate downtime with his owner or family. Before settling down for the night, a stroll around the neighborhood would complete the day.
Belgian Malinois as a Family Pet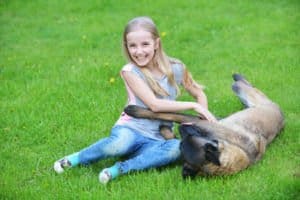 So, do Belgian Malinois' make good family dogs? Absolutely! They are fantastic family dogs for the right family.
If you have an active life and want a dog that is eager to join in, then this breed would be ideal for you. He will be the one to hike, run, and play with you. He will help you get your work done and then rest by your side. If you're ever in danger, he will protect you with fearlessness and skill.
For active families, he will happily join whoever wants to spend time with him. He is loyal to not only his owner but also to his pack. This means children can help keep the Malinois' busy while also having a best friend and playmate.
And, of course, mom and dad will always feel at ease with the protection that this highly trained dog provides.
Making a Belgian Malinois Your Family Dog
The best Belgian Malinois for a family is a trained one. Our fully trained Belgian Malinois for sale are ideal for guarding families as well as working with law enforcement. This is why at Scott's K9, our Belgian Malinois training includes teaching the breed how to live with people of all ages and with other family pets.
To learn more about our Belgian Malinois for sale, contact Scott's K9 today.
Make the Best Choice
How to find the right protection dog for your family