People ask us all the time if we train other dog breeds for protection services. We know that the Doberman Pinscher, Cane Corso, and Mastiff are all suitably trained guard dogs, but our passion lies in German Shepherd and Belgian Malinois protection dogs.
There are many reasons why we prefer these two breeds, but here are the top 10.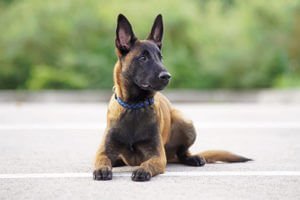 #1: Intelligence
These dogs are highly intelligent. Through our nearly two decades of experience, we believe German Shepherd and Belgian Malinois intelligence is unmatched in other dog breeds.
#2: Experience
We have the most experience with Belgian Malinois and German Shepherd protection dogs. These breeds are elite because they are most often utilized for police, military, government, and personal protection work. As a result, we started with these breeds many years ago and we still prefer them today.
#3: Trainability
If you're wondering how to train a Belgian Malinois, simply put, our dogs want to learn. They are so eager to be trained that they usually want to continue working long after we've called it a day. It is truly a joy to train them.
#4: Best Breeder
After much research and experience, we have identified the best breeders in Europe for our German Shepherds and Belgian Malinois. We only accept puppies and dogs that are full-blooded and have the best genetic makeup.
#5:  Loyalty
These breeds are highly loyal to their owners, and we want to provide that exceptional level of dedication to our clients. While many dog breeds are loyal, there's something about the German Shepherd and Malinois that takes this quality to the next level. They want to work alongside their owners to offer world-class protection in any situation. They also want to serve as a companion and best friend.
#6: Affectionate
Even though these breeds will guard their owner(s) with necessary aggression, they will also seek and accept affection often. They need to feel loved daily. We believe these two breeds are so affectionate because they have a truly deep love for their owners.
#7: Kid-Friendly
Kids love the fluffy fur and big stature of these dogs, and they also love being doted on. Families with one of our dogs often talk about how sweet it is to see their children have a best friend to hug, kiss, and play with.
#8: Aggressive Appearance
We love these dogs because they do look fierce. This is important, especially if the dog is working in law enforcement or as a guard dog. Their appearance alone is often enough to keep the "bad guys" away.
#9: Long Life
Most owners can expect at least a decade of fun, protection, and love from these dogs. While we never want to think of our furry friend leaving us, we're glad to report that these breeds have long lives.
#10: People Love Them
We couldn't finish this list without mentioning how happy our customers are with the dogs they've purchased. We always have customers contact us afterward letting us know how special their dog is, and how appreciative they are to have found a reputable, experienced trainer.
Belgian Malinois and German Shepherd Trained Guard Dogs for Sale
If you want to buy a fully trained protection dog, contact Scott's K9 for more information. We would be happy to show you our available dogs for sale and find the best one that meets your specific needs.